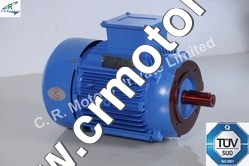 Face Mounted Electric Motor
Price And Quantity
Product Specifications
Moderate Pressure kgf/cm2

415 Volt (v)
Induction Motor

50 Hertz (HZ)
Totally Enclosed

Electric Start
Product Description
Since our establishment, we are engaged in manufacturing and supplying the Face Mounted Electric Motor. All the motors are developed by using the best grade materials. These are used to meet the requirements of various electronic and electric applications. In order to achieve quality factors, our quality inspectors test entire collection on different parameters. Further, the range of Face Mounted Electric Motor is delivered at the highly affordable prices.
Features:
User friendly design
Resistant to corrosion
Long lasting performance
Further Details:

We C.R. Motors Private Limited is one of the leading manufacturers and suppliers of Foot Mount Motor in wide range. C.R. Motors Group is multi Dimensional Company in coimbatore, With keen interests in infrastructure development and engineering industries. C.R. Motors cater to the various segments of the industry with its wide product range from 0.25 HP to 20 HP motors best suited for industrial applications. C.R. Motors produces Foot Mount Motor that are elegant in style, rugged in performance with world class features. C.R. Motors is specially made to deliver maximum power and to last long for life.
Features:
Design and performance as per IS 996 & IS 325

Specifications are conforms to IS 1231, IS 2223

230 V & 415V supply and 50 Hz frequency

Product range is 0.5 HP to 20 HP.

Choice of RPM - 750 / 1000 /1500/3000.

Increased Efficiency

Vaccum Pressure Impregnation treated.

B & F Class Insulation as per request.

Totally Enclosed fan cover.

IP 44 / IP 55 protection as per request.

Double side shield high quality imported bearing for long life
Applications:
Compressors, Blowers.

Vaccum Pumps.

Printing Machine.

Drilling Machine.

Hollow Block Machines.

All Industrial Machines
Performance Data : 1 Phase, 220V, 50 Hz, EFF2

FRAME

KW

HP

POLE

FULL LOAD

TORQUE (KG-M)

IST /LR

TST /TR

TPO /TR

CAP RUN

CAP START

MOUNTING

CURRENT (AMPS)

SPEED (RPM)

EFF (%)

PF

B3

B5

B14

80

0.37

0.5

4

3

1430

65

0.90

0.25

5.3

1.8

1.9

15

60/80

Yes

Yes

Yes

100

0.75

1

4

5.5

1430

72

0.91

0.51

5.2

1.8

2

25

100/120

Yes

Yes

Yes

100

1.1

1.5

4

7

1440

78

0.92

0.75

5.7

1.8

2

3

150/200

Yes

Yes

Yes

100

1.5

2

4

10.4

1440

80

0.94

1

5.7

1.8

2

36

200/250

Yes

Yes

Yes
Dimension Chart For Foot Mounted Motor (B3) Ref :IS 1231 - 1974
| | | | | | | | | | | | | | | | | |
| --- | --- | --- | --- | --- | --- | --- | --- | --- | --- | --- | --- | --- | --- | --- | --- | --- |
| Frame size | A | B | C | H-0.5 | K | L | LC | LO | AB | AD | BB | D | E, EA | GA,GC | G,GB | D3 |
| 63 | 100 | 80 | 40 | 63 | 7 | 208 | 231 | 103 | 130 | - | 110 | 11J6 | 23 | 4 | 8.5 | M4 |
| 71 | 112 | 90 | 45 | 71 | 7 | 249 | 285 | 120 | 142 | - | 130 | 14J6 | 30 | 5 | 11.0 | M5 |
| 80 | 125 | 100 | 50 | 80 | 10 | 275 | 321 | 140 | 155 | 126 | 130 | 19J6 | 40 | 6 | 15.5 | M6 |
| 90S | 140 | 100 | 56 | 90 | 10 | 290 | 345 | 168 | 170 | 133 | 155 | 24J6 | 50 | 8 | 20 | M8 |
| 90L | 140 | 125 | 56 | 90 | 10 | 328 | 384 | 168 | 170 | 136 | 155 | 24J6 | 50 | 8 | 20 | M8 |
| 100L | 160 | 140 | 63 | 100 | 12 | 372 | 438 | 193 | 195 | 150 | 170 | 28J6 | 60 | 8 | 24 | M8 |
| 112M | 190 | 140 | 70 | 112 | 12 | 388 | 454 | 200 | 230 | 168 | 175 | 28J6 | 60 | 8 | 24 | M8 |
| 132S | 216 | 140 | 89 | 132 | 12 | 445 | 531 | 239 | 265 | 210 | 180 | 38K6 | 80 | 10 | 33 | M12 |
| 132M | 216 | 178 | 89 | 132 | 12 | 483 | 569 | 258 | 265 | 210 | 225 | 38K6 | 80 | 10 | 33 | M12 |
Dimension Chart For Foot Mounted Motor (B3) Ref :IS 2223 -1983
| | | | | | | | | | | | | | | | | | | | |
| --- | --- | --- | --- | --- | --- | --- | --- | --- | --- | --- | --- | --- | --- | --- | --- | --- | --- | --- | --- |
| Frame Size | Flange | ± 0.3 m | N | P MAX | S | T MAX | LA | LD MIN | L | LC | LO | AD | AC | D. DA | E | F,FA | GA,GC | GB | D3 |
| 63 | F1158 | 115 | 95J6 | 140 | 10 | 3 | 9 | 16 | 208 | 231 | 103 | - | 118 | 11J6 | 23 | 4 | 12.5 | 8.5 | M4 |
| 71 | F130B | 130 | 110J6 | 160 | 10 | 3.5 | 9 | 16 | 249 | 120 | 120 | 115 | 140 | 14J6 | 30 | 5 | 16 | 11.0 | M5 |
| 80 | F165B | 165 | 130J6 | 200 | 12 | 3.5 | 10 | 20 | 275 | 140 | 140 | 126 | 60 | 19J6 | 40 | 6 | 21.5 | 15.5 | M6 |
| 90L | F165B | 165 | 130J6 | 200 | 12 | 3.5 | 10 | 20 | 328 | 168 | 168 | 136 | 178 | 24J6 | 50 | 8 | 27 | 20 | M8 |
| 100L | F215B | 215 | 180J6 | 250 | 15 | 4 | 11 | 24 | 372 | 193 | 193 | 150 | 208 | 28J6 | 60 | 8 | 31 | 24 | M8 |
| 112M | F215B | 215 | 180J6 | 250 | 15 | 4 | 11 | 24 | 388 | 200 | 200 | 168 | 225 | 28J6 | 60 | 8 | 31 | 24 | M8 |
| 132S | F265B | 265 | 230J6 | 300 | 15 | 4 | 12 | 24 | 445 | 239 | 239 | 210 | 260 | 38K6 | 80 | 10 | 41 | 33 | M12 |
| 132M | F265B | 265 | 230J6 | 300 | 15 | 4 | 12 | 24 | 483 | 258 | 258 | 210 | 260 | 38K6 | 80 | 10 | 41 | 33 | M12 |
Trade Information
Telegraphic Transfer (T/T), Cash in Advance (CID), Cash Advance (CA)

20 Per Month
2-3 Days

Africa, Middle East, Western Europe, Eastern Europe, South America, North America, Central America, Australia, Asia
Contact Us
No 1,Nanjappa Gounder Street, Therkku Thottam, Linganur (PO), PN Pudur Coimbatore Tamil Nadu India 91-422-2545545/2424509
Phone :91-422-2545545/2424509